Before we get into some fashion tips please check out this video to see what types of challenges are not in style. This is just a little something to brighten your day. Be careful with the fashion trend you choose, once you finish the video let's get into some ways to not end up in a video like this. Enjoy!
Did you happen to wake up one day and realize that you now have a pre-teen? Kids grow so quickly, it's like one day you have your little baby being dressed in adorable dresses with pigtails and then in a blink of an eye they are now a pre-teen and they have their own style. You might be wondering how do I allow my pre-teen to have her own style but still be age appropriate? Well Mia is here to help! Please check out these styles that Mia has come up with to help give you some ideas!
Before we talk about clothes, let us talk about the colors that are for fall 2020. Those who love transparent skirts with multilayers will be happy to know that they are back in 2020 and warm-colored blouses. For a more refined look, you have the neutral tones as well as the slightly metallic ones to look forward to. When it comes to winter, go pink or pistachio, and create vibrant themes for your kids. What is not trending are the acid tones that were here before, as well as the striking colors. Keep it in the neutral zone and top it off with soft pastels. Try going for cream, lemon, pale blue, peach, or a light shade of olive.
Trends are not limited seasons; they keep evolving as the year progresses. With winter around the corner, tweens obsess over long coats and high boots. Unfortunately, these trends do not look good on tweens. Little girls must keep up with the sweaters and hoodies. These are super comfy, especially when you pair it with tights or leggings. After all, winters must be warm and cozy. If you want something unique, throw a blazer over a sweatshirt to transform the comfy outfit into a chic one. You can complete this look with jeans, boots, and a high ponytail, making the causal look a lot cooler. Here are some of Mia's favorite pieces for fall and winter.
Kids Cardigan with Bobble Appliques
Every girl needs a sweater that will go with anything especially for those chilly fall mornings, this sweater from Gap is like being wrapped in a cozy blanket. It's soft knit with an open front with long sleeves that has banded cuffs and bobble appliques. Make sure to get this sweater soon because it will not be available for long since it is only $49 and your tween will get so much use out of it.
Wonder Nation Girls Ladder Back Swing T-Shirt
This olive-green shirt pairs nicely with the white sweater and a shirt like this can be found at Walmart for just $6.94! Casual everyday style comes easy with Wonder Nation's Ladder Back T-shirt. This sweet short sleeve swing top features a back strap and smooth, brushed polyester fabric with a bit of stretch for a look that's cute and comfortable.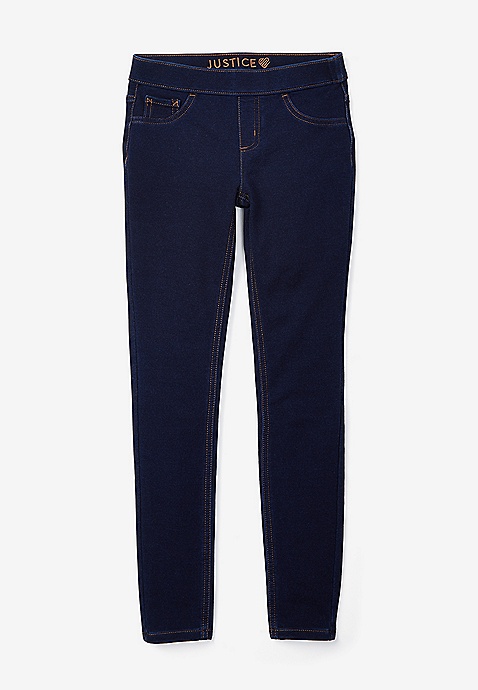 The look of classic denim with the softness and comfort of her favorite leggings, these bottoms are the must-have pick for a girl who likes to look her best but feel comfy enough to relax. These jeans are so comfortable that you'll want to wear them everyday. The jeans can be found at Justice and are on sale for only $12.47 so you might just want to get a pair for everyday.
TOP Moda Night-76 Slouched Under Knee High Flat Boots
What girl doesn't like boots in the fall? To complete the outfit, you just need a pair of brown boots which can be found on Amazon for $33.97. Before you know it all the girls will be dressing like you! These boots will be perfect for school because they are causal and comfortable. The boots are mid-calf and have a buckle detail. It will feel like you're wearing sneakers.
Black Drawstring Waist Cap Sleeve Jumpsuit
Everyone wants to combine sophistication with a realistic style and an impeccable fashion sense. Jumpsuits and rompers can be a perfect choice. From polka dots, cute animal prints, florals, to solid colors – they come in a wide array of patterns. The versatile range allows tweens to flaunt these at a birthday party by adding formal touch and a casual lunch date with friends. As for the tweens, wide-leg ones are a suitable fit since they are flowy and comfortable. After all, many young girls are shy about wearing tight clothes.
This adorable knit jumper can do it all! It features short cap sleeves, a scoop neck, drawstring waist, pockets, and skinny cuffs. This jumper is originally $19.99 but is now only $13.99.
Girls Faux Leather Moto Jacket
To add some style to this jumpsuit you can pair it with a fun jacket. One similar to this one can be found at Forever 21 for only $15.40! A faux leather moto jacket featuring a zippered closure and slanted front pockets, wide collar with notched lapels, snap-button details, epaulets, flap accent, removable belt with high-polish buckle and grommets, and long sleeves.
Mitilly Girls Flower Maxi Dress
Lastly, we have some dress ideas, so many girls just love to wear dresses. It could be because they are so comfortable, or it could be because dresses are super easy to style for every girl. They are an outfit all by themselves, just put one on and add a little personality with some accessories, shoes, and a fun jacket!
Our first pick is a maxi dress with pockets, and it is made of a high-quality stretch fabric. Keep it casual with a pair of cute sneakers or dress it up with a cute pair of flats. If it is a chilly day you could pair the dress with a denim jacket, or a corduroy jacket would pair nicely with the dress. Depending on the color dress you choose you can do a pink jacket as well. You cannot beat the price of this dress; it starts at $13.99 on Amazon
Tweens can never go wrong with dresses, especially in summer. You can grab some floral prints in knee-length dresses. Ruffles and cold shoulders have become quite popular amongst adults and tweens. Fortunately, you can find multiple cold shoulder dresses with ruffles and varying necklines. If you want to try something different, get solid-colored dresses and pair them with floral scarfs. However, do not go overboard by coughing up money on fancy dresses, stick to casual ones for a trendy look.
This dress can be found at Children's Place the color is more of a mauve, but you can also purchase this dress in red it has a zipper and an adorable ruffle detail to keep this look youthful. The website gives some great ideas to complete the look, our favorite things to wear with the dress are a gold metallic cardigan, white tights, and a pair of gold shoes. You can also shop the complete look at Children's Place. Originally this dress is $34.95 but Children's place is having a huge sale and the dress is now only $13.98 so make sure to get this before it is gone!
We have given something for everyone and for every price rang. Just because you want to dress nicely, it doesn't mean that you have to spend a lot of money. Especially with how quickly kids grow now a days it is like you buy clothes for them and then before you know it they need new clothes. Please let us know if you have any other suggestions or tips for us to try as well!
Copyright secured by Digiprove © 2020 Marcelo Aguilar